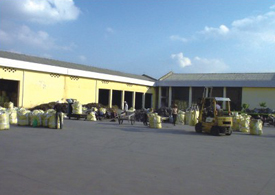 YUNNAN ZHANYU INDUSTRY CO., LTD.(Whose previous name is Yunnan Jiangchuan Xinglong Industry Co., Ltd) is a large and powerful manufacturer& supplier for Ferro Phosphorus in the world; also it is authorized to operate Import and Export. We have 3 experts who have been keen on Ferro Phosphorus for over 32 years, 135 staffs of experienced persons. With good transportation circumstance, our company is 90KM south of Kunming City and located at No.399 Jiuzhou of Dajie Town, Jiangchuan County, Yuxi City of Yunnan Province, with the company yard of 11065 square meters .

Since the establishment in 1995, we have been doing fully use of the By-Product of Yellow Phosphorus, the great advantage of rich deposition of Phosphorus Mine and the Non-Ferrous Metals in Yunnan Province. Keeping on the operation style of Focus Production and Scalization Development, we have been specializing in the research, development, manufacturing and sales of Phosphorus Alloys for years, thus to breed and develop the superiority of our main products and fulfill the ever-changing of customers' various demand.

Currently we manufacture and supply six series of Ferro Phosphorus, including Common Ferro Phosphorus, Low-Titanium Ferro Phosphorus, High-Phosphorus Ferro Phosphorus, Low-Titanium&Low-Manganese& High-Phosphorus Ferro Phosphorus, High-Nickel Ferro Phosphorus and Pure Ferro Phosphorus. All the Specification, Size, Quantity and Packing are fully in accordance with the customers' demand.

After specializing development of 25 years, our scale of Ferro Phosphorus manufacturing is keeping expanding and meanwhile we also invest in the manufacturing of Pyrite, Phosphorus Slag and Calcium Magnesium Phosphate etc.,

We have good reputation on the world market because of the good quality and prompt delivery of our products. Nowadays we have established good and long term business relationship with many plants and Worldwide I&E Trading Company around the whole world.

We put the values of Scientific Management, Good Quality, High Credibility and Customer Orientation into practice for every respect of our daily operation. To set a Win-Win rule and be Honesty is always the target in all our business cooperation with customers, and upon our flexible workings, we always provide the most efficient and qualified services and products to our customers.

Always appreciate the sincerity, support and cooperation of all our friends and customers all around the world.

Always willing to have further and good business cooperation with you.